Dynaform Webinar (Accelerating Blank Cost Estimation)

Accelerating Blank Cost Estimation by Utilizing Blank Size Engineering | Aug 4, 2022
BSE is widely used for estimating blank size, along with blank nesting for maximum material usage, scrap & piece price.
This module offers automatically generate reports for cost estimation and quotation of the part material. Report output includes detailed descriptions of overall blank size, nesting configuration, pitch, coil width, material utilization, number of coils required to meet annual volume and total piece price for materials.
Jenson Chen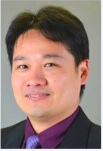 Mr Jenson Chen has been working with ETA as VP of Global Sales and Marketing, Dynaform. He has 20 years of experience using LS-Dyna and Dynaform.